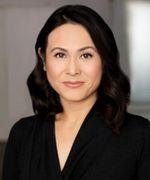 Bio
:
erin Khuê Ninh comes to UC Santa Barbara by way of California's public school system. She attended public grade schools in Los Angeles, completed both her BA and PhD degrees in English at Berkeley, and has twice held fellowships at UCLA: a UC President's Postdoctoral Fellowship in the English department, and a Visiting Scholar appointment at the Institute of American Cultures/Asian American Studies Center.
Her research centers on the model minority not as myth, but as racialization and identity. Throughlines in her writing and teaching are the subtleties of power, harm, and subject formation, whether in the contexts of terror and war, of family and immigration, or of gendering and rape culture.
Ninh's new monograph is Passing for Perfect: College Impostors and Other Model Minorities (Temple University Press, 2021), featured here in the New Yorker. A crossover book, it takes an interdisciplinary approach to the question "How does it feel to be model minority?" She examines the pressures of striving to achieve the "success frame," where failure is too ruinous to admit.
Her first monograph, Ingratitude: The Debt-Bound Daughter in Asian American Literature (NYU), won the Literary Studies Book Award from the Association for Asian American Studies in 2013. The book takes a long look at intergenerational conflict, but under the harsh lights of post-structuralist and cultural-materialist analyses. Ninh argues that the immigrant family unit is structured by an economic and political investment in the American capitalist system, and driven by its dedication profitably to raise the model minority. She argues, too, the grievous costs of this capitalist venture: a daughterly subjectivity trained by masochism into self-destruction.