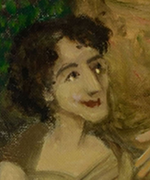 Bio
:
A Professor of Comparative Literature and French Studies at UC Santa Barbara with courtesy appointment in the Departments of Germanic & Slavic Studies and Feminist Studies, I work at the interface of gender and literary urban studies in modern and contemporary French and Western literatures. I co-direct the "Culture & Conflict" series for the Walter de Gruyter Publisher (Berlin / Boston). After a research career dedicated to nineteenth-century French studies, including Romantic illustration and graphic cultures, I have developed new scholarly interests in memory studies, Holocaust & Jewish studies, disability and care in world literature. I have received research grants with the American Council of Learned Societies and the Albert and Elaine Borchard Foundation, and held a Mellon Fellowship with the Department of French at New York University. I taught at Bryn Mawr College, New York University, and the University of Paris-7 Denis Diderot. I have authored two monographs and co-edited three books, and published over 70 articles and chapters. I am currently working on a book-manuscript on narratives and cities as repositories of memory in texts authored by contemporary French-speaking women writers, with interludes focused on women filmmakers.  
My main research & teaching interests include: French & European Modernism; urban genres (flânerie, detection, Noir, the underworld, the popular novel, literary cartographies); gendered cityscapes, gendered embodiments; care, remediation, and literature; memory studies; Shoah & genocide studies; disability studies.
Picture Credit: Boadella, Valérie. Le Banquet chez Pierre. Detail. Oil on canvas, 2015. Private collection.